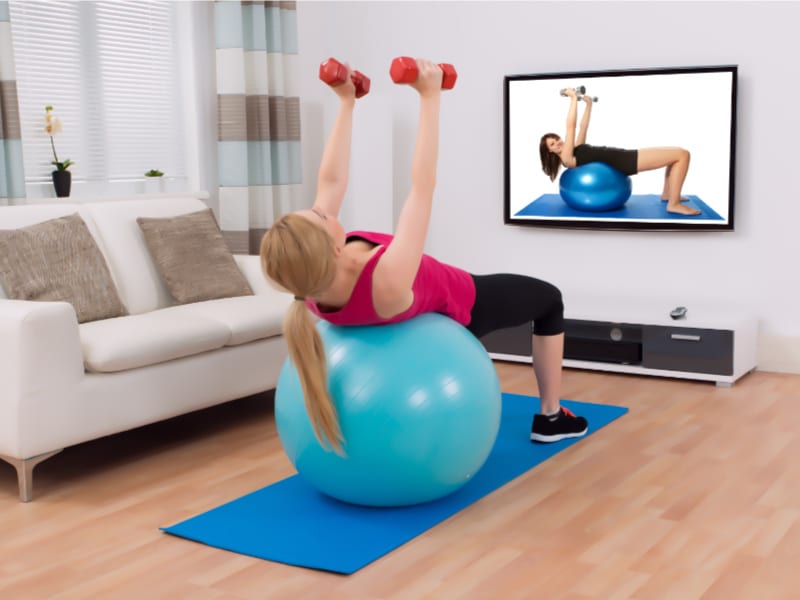 THE NEW PERSONAL TRAINER IN THE AGE OF VIRTUAL FITNESS.
San Diego is at the forefront of health and fitness in many ways and personalt training is no different. With our incredible weather and parks, personal training outdoors has been a staple service in our city for years now. Now that covid has forced us into making many changes, we have found that a large portion of personal trainers have moved their services online. This has created the rise of the virtual personal trainer.
Now that San Diego is reopening these same personal trainers are seeing a new opportunity to offer their services at a lower rate and more effectively to their clients.
YOUR NEW PERSONAL TRAINER IN 2021
For safety you should still be using a mix of online and outdoor services to conduct your training program. A great personal trainer should be able to give you an incredible workout just as easily in a virtual format as they can in-person at an outdoor setting. Many personal trainers attempt to replicate the gym experience outdoors but the personal trainer that will be most successful coming out of 2020 will be able to conduct body weight training in a cross functional style just as effectively as the can a full program in the gym using equipment. 
Your personal trainer should be as effective at training you in a virtual session as they are in-person. Online personal training sessions are another useful tool in the personal training repetoir. Although your trainer can't provide you with equipment or spot you, they can keep you consistent and use different methods and exercises to make sure you are consistently working at the appropriate intensity without missing a workout.  Consistency and increasing intensity are both key to reaching your short and longterm goals.
The Unique San Diego Approach.
San Diego Personal Trainers are in a unique position to be able to offer both outdoor and online personal training services year round and as part of a complete suite of personal training services. Outdoor workouts provide you with the best atmosphere to burn the highest volume of calories. Virtual Personal Training can allow you to beat the traffic when meeting in-person isn't time effective. And, if you need to, almost every neighborhood has a gym or boutique fitness studio that they can meet you in for a more traditional training experience. 
At San Diego Core Fitness we incorporate HIIT into every session because of the increased caloric output for the given time. In every 45 minute workout you burn the most calories possible for that type of exercise.
Number 3.
Strength Training is nothing new and factors in as what I believe to be a false equivalency. Some surveys refer to it as "free weights" and others "strength training" however, both group classes and HIIT programs can and should incorporate strength training as part of their complete health and fitness program. 
Traditional strength training should not necessarily be done for speed, which HIIT tends to emphasize, but if you lower the weight and follow another top 10 trend, Functional Training, then everything should be just peachy. Kettlebells and Dumbbells are excellent tools to be utilized in a HIIT strength program, bring the weight down to a manageable load that doesn't put a lot of stress on your joints and you will be able to create an unlimited list of incredible Functional Exercises that will work every muscle in your body very effectively.
Our programs incorporate sand bags, sand balls, medicine balls, suspension trainers, plyo boxes and bodyweight exercise as part of a comprehensive strength program. We build our schedule to include both cardio and strength classes so that you are participating in a well rounded routine.  
Number 4.
Personal Training is and always will be in the top 10 but only infrequently pops up in the upper echelon of fitness trends. This year's rise in the ranks may be in part due to the more available access of trainers via online platforms as well as an economy that is rebounding with more people setting aside a larger fitness budget. 
Although personal training services are more expensive than group alternatives, a personal trainer can help with nutritional advice, motivating you to keep on track and quickly put you in the workout and diet that is best for accomplishing your goals. 
We offer personal training as a part of our services and encourage it when you feel that you need the individualized attention as well as a program specifically structured to fit your schedule, lifestyle, abilities and goals.
Number 5.
Exercise Is Medicine (EIM) rounds out the top five, moving up the charts from previous years. EIM is is a global health initiative that focuses on encouraging primary care physicians and other health-care providers to include physical activity assessment and associated treatment recommendations as part of every patient visit, and referring their patients to exercise professionals. In addition, EIM recognizes fitness professionals as part of the health-care team in their local communities.
It is good to see this trending as it has been recognized in the medical profession that diet and exercise is the best preventative medicine available. In the past it seems to be a casual aside that your doctor reminds you of at every visit but now it is coming more to the forefront and being acknowledged that technology and pills work but are not the solution. For most health problems, fitness and nutrition are the only medicines that will completely resolve the issue(s).
In Conclusion.
I've attempted to compile a list from numerous articles that distills down to a common denominator of what are the biggest fitness trends in the United States right now. We can say that Group Classes are definitely at the top of the list, however, it should be made clear that these classes can be strength, cardio or aerobic in nature, as well as all of those styles of working out can be done in a HIIT format. 
The recommendation by the World Health Organization is that everyone should participate in 30 minutes of Medium Intensity Interval Training (MIIT) a day. HIIT has proven to be able to accomplish the same result in 20 minutes but if done improperly can cause injury. Participating in a program like the one we offer at San Diego Core Fitness gives you the added benefit of HIIT in a safe format that gives you approximately twice the required daily exercise in one 45 minute workout.