Since 2012
NUTRITION COACHING
WE HAVE A DIETITIAN AND A SPORTS NUTRITIONIST READY TO TEAM UP AND GIVE YOU EXACTLY THE NUTRITION PROGRAM YOU NEED!
YOUR NUTRITION PROGRAM
You can choose to take a highly personalized approach and purchase a package of Nutrition Coaching sessions and follow a program you and your dietitian create just for you. Or you can add Nutrition to your monthly membership and get access to our nutrition software and bi-weekly virtual check-ins .
INTERMITTENT FASTING AND MEDITERRANEAN INGREDIENTS ARE AT THE CORE OF OUR NUTRITION PROGRAM BUT WE WELCOME ALL THE NEW SCIENCE AND HOW IT INFORMS US OF THE HEALTHIEST HABITS WE CAN FOCUS ON AND USE TO REACH OUR GOALS.
Everyone is unique in their tastes, lifestyle and cooking skills. We will guide you to finding a path to a healthy lifestyle keeping these factors in mind. Identifying foods and habits that you have that are healthy and maximizing those while minimizing your unhealthy foods is a start, but we go much further.
We never push pills or quick fix programs, we are all about real, whole food and permanent, sustainable changes to your diet.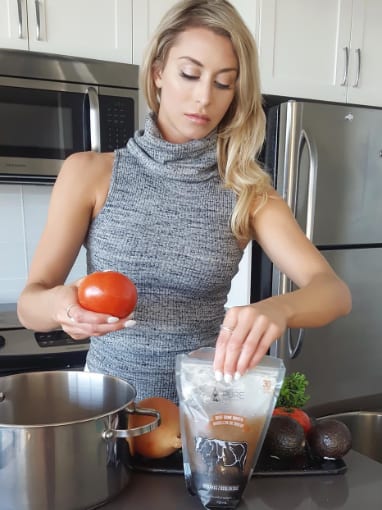 A REAL DIETIAN. A REAL SPORTS NUTRITIONIST.
Live one-on-one virtual nutrition coaching appointments are what set us apart from the fad diet, one size fits all programs. What really makes us unique is that our Dietian and Sports Nutritionst aren't certified; they have undergraduate and graduate degrees in their disciplines. They are the real deal. Don't worry, it's not incrediby expensive and we don't force you to eat bland food. Our team loves great food and creates menus that generally offset the cost of the nutrition program so you an stay in your weekly food budget.
Nutrition and fitness go hand in hand and both of our Nutrtition Pros are fanatical about both. They practice what they preach so you are in good hands with a duo that can incorporate a healthy diet into an effective workout program.
"I have been working with Rachel Fassio (Justin's adorable wifey) for the last 5+ weeks in her Core Transform Nutrition package. From the very first 15-min (free) consultation, I felt very comfortable with her. She is really sweet, fun and maintains a nice little professional office (that little room inside the gym)"
"First you pick a nutrition package that matches your goals, and if you choose the bigger package, you get a super in depth nutritional systems analysis to figure out what your main "issues" are that may or may not be stopping you from your health goal (losing weight/maintaining, etc)."
"I really like that she doesn't "push" pills or supplements or shakes or anything. I wanted a REAL food program with whole foods and not just drinking liquid supplements to crash diet/detox and then gain the weight later. The meal planning was great, she provided me with tons of great recipes, many of them very simple, which was convenient and affordable."
FITTER. HEALTHIER. HAPPIER
SAN DIEGO CORE FITNESS
Nutrition Coaching Schedule
Initial Session 60 Minutes
Coordinated with nutrition coach.
20 Minute Weekly Sessions 
Coordinated with nutrition coach.
45 Minute Classes:
Tuesday/Thursday: 7:30am & 5pm
Monday/Wednesday/Friday: 7:30am & 5:30pm
VIRTUAL PERSONAL TRAINING
30 Minute Sessions:
Coordinated with instructor.
INITIAL COACHING SESSION 40% OFF