BOOT CAMPS SINCE 2012
OUTDOOR FITNESS
OUTDOOR FITNESS BOOT CAMP CLASSES ARE THE SAFEST OPTION FOR EXERCISE DURING THE PANDEMIC. WHAT YOU MAY NOT KNOW IS IT HAS ALWAYS BEEN THE MOST EFFECTIVE. OUTDOOR EXERCISE INCREASES ADRENALINE AND METABOLIC RATE FOR A BETTER WORKOUT ALL AROUND.
CORE FITNESS CLASS SCHEDULE
| | | | | | |
| --- | --- | --- | --- | --- | --- |
| 8:00am | Ski Beach Mission Bay | Weekend Warrior | Malea Wells | 45 Minutes | Sign Up |
Want to try out a few classes first? Click below to get our 3 Class All Access Pass for just $19. You will get access to our online and outdoor classes.
OUR OUTDOOR BOOT CAMPS
For 9 years we have been the largest outdoor fitness boot camp program in San Diego. We have had to adapt to the changing times and have emerged from this crisis as a new program. Our outdoor fitness classes are complimented by our live, virtual classes and video on demand library. We currently offer 9 live, virtual workouts during the week in the mornings and afternoons. We have 7 outdoor workouts currently on our calendar at Mission Bay, North Park and Ski Beach. We will continue to expand our outdoor schedule as our classes grow. Be assured that you have the resources, either in person in a safe outdoor setting or online to get in the best shape of your life.
TRY OUR EXERCISE INTENSITY CALCULATOR
You can't beat our style of exercise for results. We move from one location to another throughout the park during a boot camp. Mixing cardio and strength exercises to generate the greatest health benefit. Check the caluator below to see what results you will get from training with San Diego Core Fitness.
SELECT CALISTHENICS
Calisthenics, vigorous is the best example of what we do. Select the level of calisthenics you will be able to maintain for the full 45 minute class.
"
Even in my short time with SDCF I saw results and improvements in my endurance, my strength, and developed more of a fearless attitude when it came to facing tough physical challenges.

" – TONI L. ~YELP REVIEW
We employ a Cross Functional Training style that increases caloric burn by combining muscle groups in every movement. The more muscles coordinating at once means a greater metabolic output as well as increased core stability and strength. The boot camp format of class is perfect for cross functional training.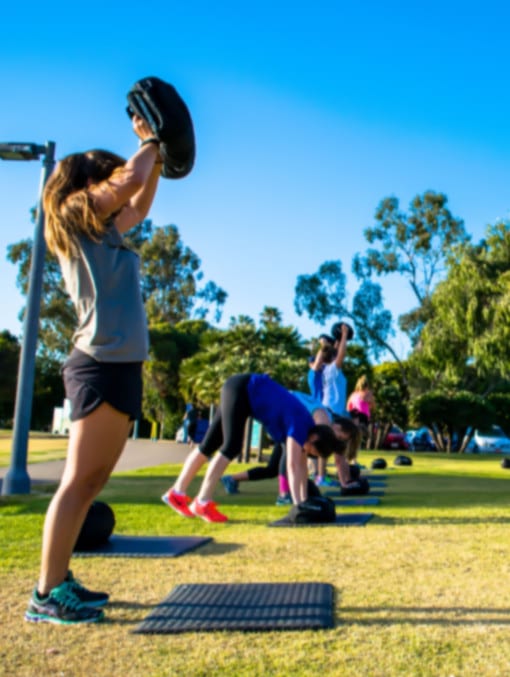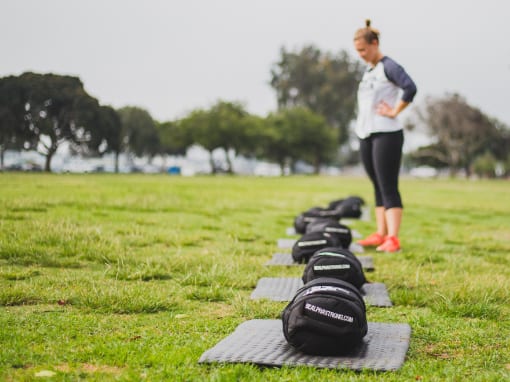 OUTDOOR FITNESS LOCATIONS
We have 3 outdoor boot camp locations within 10 minutes of each eather. Get your outdoor workout in first thing in the morning at Morley Field, North Park or participate in a great workout right on the bay on your way home from work at our East Mission Bay location. It's always great to start your weekend out right with our 8am Boot Camp at our beautiful Ski Beach location. Try out our 4 week trial and get 20% off the regular monthly price or jump right in and get 50% off the first month when you start a membership.
4 WEEK TRIAL
50% 0FF 1ST MONTH
SKI BEACH BOOT CAMP
Turn left when you enter the park towards the northern parking lot, then stay to your right and look for the trainer in the large field.
EAST MISSION BAY BOOT CAMMP
Turn right when you enter the park then look for your trainer on either side of the parking lot.
NORTH PARK BOOT CAMP
Park across Joe Schloss Way at the corner of Jacaranda. Look for your trainer in the field on the other side of Joe Schloss Way.
REAL TAINERS. REAL RESULTS. OUTDOORS.
Living in San Diego gives us the opportunity to be outside in incredible weather as well as in an array of beautiful parks. From North Park to Mission Bay, our outdoor fitness classes utilize the unique features and views of our incredible outdoor spaces to give you an invigorating workout that is well worth your time. 
Our method is called Cross Functional Training, it is a type of exercise that burns the most calories per minute as well as improves your athletic performance in all other areas of your life. Our boot camp classes will improve your running form, your yoga practice or your volleyball game. Whether it's hiking up Cowell's Mountain or riding your roadbike along the coast, our outdoor fitness boot camp classes will get you in peak shape for your life's passion.
"The workouts are hard, but while Justin pushes everyone to do their very best, he never yells at you or makes you feel incompetent if you need to modify or take a break. And while the workouts exhaust you, they really do invigorate you at the same time."
"I've completely changed my life over the last ten months having purchased their 6-week groupon for my New Year's resolution. I've become a morning person, waking up for two sessions of boot camp while watching the sunrise, as well as the most important part, lost 20 lbs and am way more fit than I have been in a long time!!!"
"I can honestly say I love every single class! I never thought being sore would bring so much joy! I finish every class with a smile and hardly any breath, but I feel so energized afterwards. I like the variety of exercises and I'm going into my third week ( alive), every single game class has been different."
FITTER. HEALTHIER. HAPPIER
SAN DIEGO CORE FITNESS
OUTDOOR FITNESS SCHEDULE
45 Minute Classes:
North Park – Tuesday/Thursday: 6am & 7am
Mission Bay – Tuesday/Thursday: 5:30pm
Ski Beach – Saturdays: 8am
VIRTUAL FITNESS SCHEDULE
45 Minute Classes:
Tuesday/Thursday: 7:30am & 5pm
Monday/Wednesday/Friday: 7:30am & 5:30pm
VIRTUAL PERSONAL TRAINING
30 Minute Sessions:
Coordinated with instructor.
VIRTUAL PERSONAL TRAINING SPECIAL - 3 SESSIONS $99
1ST TIME SPECIAL - 3 VIRTUAL CLASSES $19